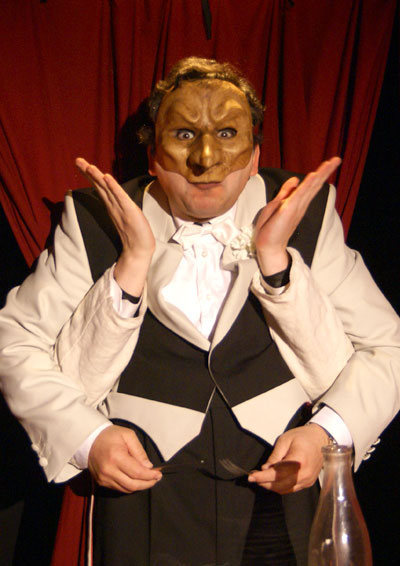 Le dernier cri
(ALL THE RAGE)
STILL PLAYING
creation 2009
DIRECTED BY OLIVIER COUDER
In French, "le dernier cri" refers both to the latest trend, and the last gasp before death. It is also the title of a painting by René Magritte that features a tree painted on a large leaf, one of the metonymic techniques he holds so dear. Le dernier cri bears a certain likeness to this painting, and a certain likeness to dreams. Everything in it is unstable, unusual, and out of sync: the songs, the dances, the surreal images, and the short scenes that run through the show without any apparent logical connection. Despite this, the story manages to abide by a simultaneously clear and subtle order.
In the first part of the show, a large group of identical characters appear behind the only window, immense, of a house without doors: trousers, coats and black bowlers' hats, white shirts and dark red neckties, in true Beckett or Magritte style, the chorus of mimes move in the same way at the same time, as if infinitely duplicated by two parallel mirrors, unable to be told apart. Otherness is concealed, and the slightest hope of independence for any individual is severely repressed.
In the second part, on the other hand, we see dandies living it up, taking us into a glamorous world where everyone wants to stand out as the most handsome and the wealthiest of all.
Whether they wear bowler hats or fashionable suits, all the characters in this play are confronted with alienation and soul-searching, the recurring question of how to be and how to seem.
A violent confrontation breaks out between the two worlds and, at the end of the show, this leads to the start of a conversation and a window towards another possible world.
CREATIVE TEAM
Directed by Olivier Couder
Assistant director:      Patricia Zehme
Featuring:       Raja Aïtour, Stéphane Brunier, Marie Colin, Olivier Couder, Gérard Dold, Arnaud  Grossetti, Yoram Gué, Stéphane Guérin, Josette Kalifa, Trang Lam, Stiva Michaux Paterno, Frédéric Payen, Nadia Sadji.
Live music:      Pierre-Jules Billon, Jean-Christophe Cornier and Antoine Rosset
Set:                  Jean-Baptiste Manessier
Costumes:       Philippe Varache
Video:             Xavier Ameller
Mime consultant:       Agustin Letelier
Mask consultant:        Rafaël Bianciotto
Mask creation:            Alaric Chagnard
Le dernier cri is supported by Arcadi, the Spedidam, the Fondation de Francea and the Caisse d'Epargne Ile de France.
PARTNERS