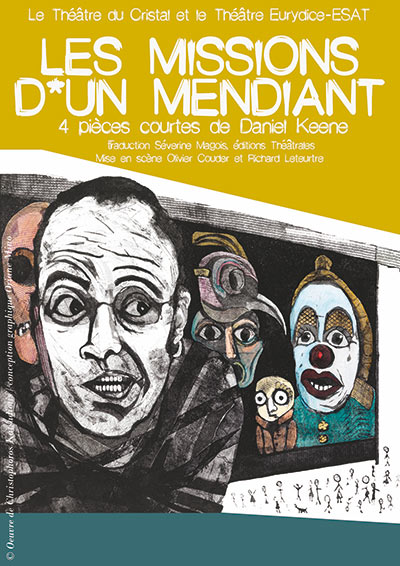 les missions d'un mendiant
(MISSIONS OF A BEGGAR)
TOURING
creation 2015
Directed by Richard Leteurtre and Olivier Couder
These four short plays, dealing with the themes of family, exclusion, and disability, read as a lyric poem.
Following on from Beckett, Keene revives the short play, a genre uncommon in theatre. The play's sparse style, rife with allusions and pushing us to read between the lines, brings the writing a sort of intense glow.
A magnificent play cosigned by Olivier Couder and Richard Leteurtre.
CREATIVE TEAM
Comprising four texts by Daniel Keene : A Three Legged Stool / I say I (directed by Richard Leteurtre) and To Whom It May Concern / The Visit (directed by Olivier Couder)
Translated by Séverine Magois
Assistant director :      Natacha Mircovich
Featuring : Stéphane Guérin, Peter Bonke, Olivier Couder, Coralie Moreau, Anna Peneveyre, Thomas Caspar, Gabriel Xerri.
Set :                  Jean-Pierre Schneider
Soundtrack :   Dominique Massa
Lighting :         Marie Hélène Pinon
PARTNERS